Realization
Daily up from 1 person.

Transfer
Pickup in Manaus (hotel / center) Manaus ca. 8:00 – arrival at Juma Lake Inn 12:00,
Pickup in Juma Lake Inn 13:30 – arrival at Manaus (hotel / center) ca.18 Uhr.
Special transfers on request.

Accommodation
All accommodations in private huts with WC and shower bath.

Food and Beverages
Breakfast, lunch and dinner, and mineral water is available at any time.
Optional and by request vegetarian food is offered.
In the price do not include: beer, Coca Cola, lemonade, Caipirinha, personal issues.

Exkursionen und Ausflüge
All tours and excursions with English speaking guides, further languages on request.

Extensions
Individual extensions prior to arrival or locally available.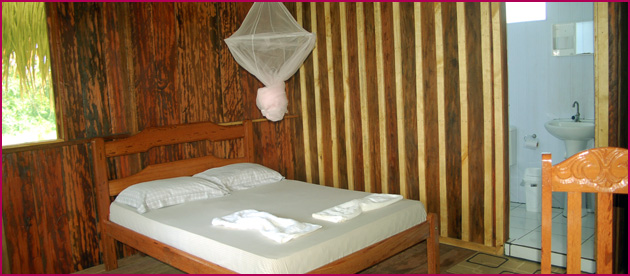 Hints and Tipps
Best travel season: Juli–Januar
The highest water level is up to 12 meters higher in June / July. During this time you can go by boat far into the woods.
The lowest water level is in September / October. It is a good time for fishing.

Dry season: July–December, rainy season: January –June

Between September and February there are nearly no mosquitos at the

Juma Lake Inn

. From February to September the mosquitos appear from dawn to daybreak. The houses are protected with special mosquito meshing.
Sunrise: ca. 5:30–6:00, Sunset: ca. 18:00–18:30
Electricity (generator) is used from 11:00-13:00 and 18:00-22:00.
Children should be able to swim, the river being easily accessible.
The tour-program sometimes changes depending on the weather conditions.
Please note that for organizational reasons or weather conditions, there may be local changes in the time sequence!
Tips unto accompanied luggage:
Sturdy shoes,
Headgear,
Sun protection,
Mosquito repellent,
Torch, Rainwear,
Water bottle
Batteries and well-charged batteries.
The main luggage can be left in Manaus at the hotel.